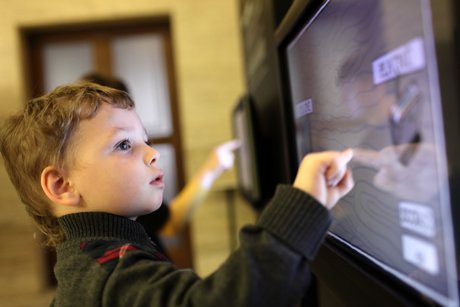 Blast back into the past or shoot into space on Santa Ana property. At the Discovery Cube on Main Street, kids of all ages can delve into the world of science. This popular children's museum combines permanent exhibitions with rotating special displays and activities designed to stimulate curiosity. Endless opportunities are presented to learn about all kinds of science in a fun and diverse way.
Weather rules the world. Californians living in Santa Ana are used to sunshiny days. Sometimes an occasional earthquake may rumble the ground a bit. At the museum, youngsters can learn about the seismic events that sometimes make life a tad unstable. Things are rocking and rolling once they step into the simulating Shake Shack. Afterwards a seismograph is ready to analyze data. In the Planetary Research Station an animated globe is suspended at an angle perfect for viewing weather patterns and for studying the earth. Venture forth for an out of state weather experience and stand up to winds of a mighty hurricane.
Stargazers Living In Santa Ana Fly To The Moon
The Boeing Rocket Lab is perfect for stargazers. Budding astronauts can simulate a rocket launch and learn the chemistry behind what fuels are powerful enough to send such an amazing machine into space. Dinosaurs stand tall at the Discovery Cube. Guests can walk underneath a replica of a massive Argentinosaurus, and then participate in a paleontology dig. Preservation and conservation is very important. Kids can take the Eco Challenge and become motivated to help the planet.
Special events are frequently moving through this Santa Ana property. Favorite rotating exhibits include Science of Gingerbread, Bubblefest, Science of Spooky, and Inventors Week. In order to not miss a thing, local families should consider becoming members. A lifetime of memories await.